Gillies Bay is on the west coast of Texada Island, surrounding a large sandy bay.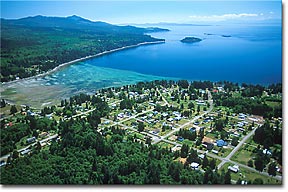 Texada Island is located in the Strait of Georgia, between Vancouver Island and the mainland coast of British Columbia, close to Powell River. Texada Island has two main communities, Gillies Bay and Van Anda, far away from the hustle and bustle of big cities.
It is an area of outstanding natural beauty, boasting spectacular coastal and mountain scenery. Texada offers visitors great hiking, cycling, beachcombing, camping, kayaking and scuba diving, as well as exceptional wildlife viewing opportunities.
For more Texada Island details check VancouverIsland.Com